In the new China Fortune (Chinese version) published in the list of China's top 500, printing and paper companies have five on the list, which reflects the good development momentum of China's printing industry.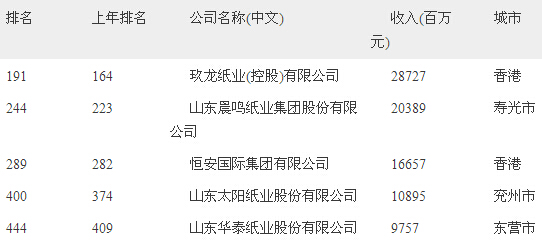 The cover of the new issue of Fortune (Chinese version) magazine has published many issues of concern: the new China Top 500 list has been released. Fortune Chinese Network released the top 500 list in China on July 14, 2014, and five paper and printing companies were listed: Nine Dragons Paper, Chenming Paper, Hengan International, Sun Paper, Huatai Paper industry. In addition, Sinopec, PetroChina, and China Construction were among the top three; 36 new companies such as Jingdong Mall were on the list; the total profits of 29 financial companies reached 1.27 trillion yuan, accounting for more than half of the total profits of all China's top 500 companies.
It is understood that China's top 500 list is composed of 500 companies selected from listed Chinese companies (including listed companies on the Shanghai and Shenzhen stock exchanges, and overseas listed companies with main business in mainland China) . This year is the fifth time that Fortune (Chinese version) has released China's top 500 list. It not only reflects the fast-growing Chinese economy, but also reviews the fast-growing Chinese listed companies.
The threshold for China's top 500 this year reached 8.23 ​​billion yuan, a year-on-year increase of 13%. In addition, the growth of total revenue and total profit of the listed companies this year has also achieved "two pairs": the total revenue reached 28.9 trillion yuan, and continues to account for more than half of China's GDP in 2013. Compared with last year, total revenue increased by 10.4%; profit increased by 13.5% to 2.5 trillion yuan.
Packaging machine for the production of various specifications of the packing belt. The machine is the main raw material of polyethylene and polypropylene resin, and it is made of nylon and polyester. Elastic plastic tape with good elasticity, high strength, good water resistance, chemical resistance, soft and soft, can be tied to the manual Strapping Machine. The utility model has the advantages of convenient use, low cost, and can be made into red, white, blue, yellow, green, and the like, and the goods of different grades are packed according to the color, which is convenient for distinguishing the grade of goods and improving the delivery efficiency.
Strapping Machine
Strapping Machine,Automatic Pallet Pet Strapper,Automatic Strapping Machine,Packway Strapping Machine
Shandong Sinolion Machinery Corp., Ltd. , https://www.sinolion.cc