In four minutes, a hot fresh vegetable can be prepared. Del Monte Fresh Produce NA of Coral Gables, Fla., introduced three different fresh-cut vegetables. This series of products uses vacuum packaging trays, which can greatly extend the shelf life without using any preservatives, additives or other chemicals. According to Matt Smith, deputy director of marketing at Del Monte Fresh Produce, "Consumers are most likely to find it convenient. Nowadays, microwave foods are everywhere on the shelves of supermarkets. This new type of film packaging system can provide a quick way to cook vegetables. , and can guarantee excellent results."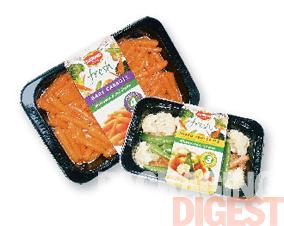 Del Monte's fresh microwave vegetable line produces products including baby carrots; vegetable chopsticks, baby carrots, broccoli and cauliflower; and mixed vegetables, including baby carrots, cauliflower, and candied peas. There are 6 ounces and 12 ounces respectively. These colorful fresh-cut vegetables are packed in a plastic tray with a thin film lid. This package is provided by Sealed Air (). Remove the production time, you can also have a 10-day shelf life. Although Del Monte Fresh Produce did not disclose the specific structure of the packaging material, they said that this "close-to-fit" vacuum packaging was so compact that when the vegetables were heated in a microwave oven, the film would swell, creating a "condenser room" that would allow The vegetables inside are evenly heated. Smith said, "Finally, a dish full of fragrant, delicious vegetables was made."
Smith said that the company has spent six months developing this product. The biggest challenge is to "get the best combination of tastes and provide consumers with a valuable product. At that time, we have to determine the correct product. Weight and corresponding product packaging so that it is possible to reasonably control the heating time of microwave ovens and provide a competitive price." He added that packaging requirements include a short heating time, a shelf life from the normal refrigerated transport to the store, It is long and can "provide consumers with a good food experience."
The label of the product is a cardboard sleeve covering approximately one-third of the entire tray, making vacuum-packed vegetables still visible. The above pattern was designed by Del Monte Fresh Produce to focus on enhancing the "fresh" concept and highlighting the convenience of the product, which can be prepared in just four minutes.
The product was first tested for six weeks in grocery stores in the Midwestern United States. The production line was formally introduced on June 1 and 2006 continues to be promoted nationwide. The price of 6 ounces is 1.99 US dollars, 12 ounces of the price is 2.99 US dollars.
Source: Packaging Expo

COOKING UTENSILS-Kitchen tool set includes everything you need to cook that perfect dish

HIGH QUALITY THAT LASTS - These Kitchen Gadgets are made to stand the test of time. Top of the range 430 stainless steel provide greater durability than other kitchen utensil sets
THE RIGHT TOOL FOR ANY TASK-apart from high-quality cooking utensils like skimmer, spoons, turners and spatula, you additionally receive a broad range of useful kitchen gadgets such as a Bottle Opener, grater, Pizza Cutter and potato peeler
We have many style cooking utensils, stainless steel Kitchen Utensils, silicone kitchen utensils and nylon kitchen utensils.Stainless steel Kitchen Tools , silicone kitchen tools, nylong kitchen tools and kitchen tools set.
HIGH QUALITY STAINLESS STEEL HANDLE: Using food grade 304 stainless steel improves the durability of this kitchen cooking utensil set, making it work harder and last longer than other utensils sets.
NONSTICK KITCHEN UTENSIL SET: Thanks to the nonstick silicone, this cooking utensil set is safe to use with all of your favorite pots and pans, ensuring that you never scratch or damage the surface.
Cooking Tools,Kitchen Utensils,Kitchen Tools,Silicone Cooking Tools
Yangjiang Homelife Industry & Trading Co., Ltd. , http://www.bettyhomelife.com